BBI amendments might happen after all. Raila Odinga, ODM leader, seems to have resigned his position that editing would not be done on the report. Members of Parliament of the National Assembly and Senate settled upon this decision in a meeting during a retreat to Naivasha. The meeting took place on November 2, 2020.
Why BBI Amendments?
On 9th November, Odinga met leaders from the pastoralist communities in Nairobi. He promised to put their concerns into consideration. Especially, about being left out of the process. Raila appreciated having had a robust and candid discussion with leaders from pastoralist communities.
He also explained that their concerns included revenue sharing, the equalization fund, and having the livestock marketing authority given that it was the communities' primary economic activity. Also, he said that the pastoralists have lagged behind. Because they have always missed out on the table. Especially, during discussion and development of national policies.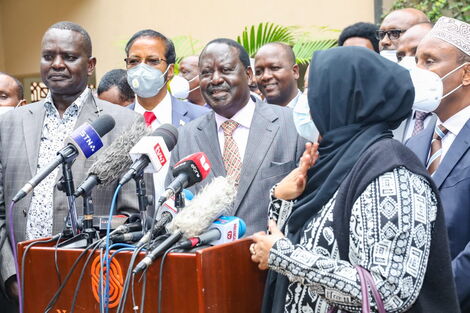 Therefore, the leaders designated three representatives who would meet the BBI technical crew. This will help iron out their concerns. Among those present in the meeting included Treasury CS Ukur Yattani. Also, Mining and Petroleum CS John Munyes and Senate Majority Leader Samuel Poghiso were present.
Any Supporters?
Elgeyo Marakwet Senator Kipchumba received the news well. However, earlier he had explained that Deputy President William Ruto's concerns and suggestions in the BBI report were locked out. 

"Well done. Glad you've rescinded your earlier hardline position that BBI won't be amended. Now let's amend the document to capture concerns of pastoralists, evolutionists, Judiciary, etc then pass BBI by consensus. We don't want us vs them attitude. Let's reason together as Kenyans," he offered. 

DP Ruto has already declared that his support for the referendum would be pegged on whether amendments would be allowed in sectors touching on the Judiciary, Executive and the IEBC.

"Pastoralists, the church, women, Senate, and other stakeholders want consensus on the BBI. It's a contradiction to want to amend the Constitution while refusing to amend a mere report (BBI). It's defeatist to build walls to shut others out while purporting to build bridges,"  he stated in a past tweet. 

Follow us in social media: