Margaret Keenan, A 90 year old woman, who is turning 91 next week, is the first person in the world to be given the Pfizer covid 19 vaccine. Margaret is a former jewellery shop assistant who only retired four years ago. She has a daughter, a son and four grandchildren.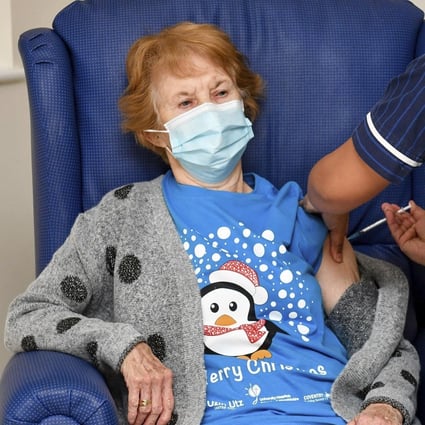 Margaret Feels Privileged
She said the injection she received at 06:31, was the best early birthday present. "I feel so privileged to be the first person vaccinated against Covid 19. It is the best early birthday present I could wish for," she said. "I can finally look forward to spending time with my family and friends in the new year after being on my own for most of the year," she added. Originally from Enniskillen, co Fermanagh, she has lived in Coventry for more than 60 years.
READ ALSO: Children Homes Send Away 21,000 Kids
Britain's government has secured 800,000 doses of the vaccine so far, enough to give 400,000 people two doses each. Margaret Keenan and the others will have to go back for the second dose in three or four weeks' time. According to government guidance, each vaccinated person will be given a credit card-sized vaccination document. The document will show details of their next appointment. Seven to 10 days after the second dose, they should be protected against the virus.
Health officials began the immunization campaign just six days after granting approval to the vaccine makers, Pfizer and BioNTech. The UK will give the vaccine first to front line health workers. Long-term care facility workers and residents over 80 years old will follow. Shots will be made available first at hospitals before being distributed to doctor's offices.
The vaccine needs to be stored at -70C and requires special storage freezers and shipping containers. Meanwhile, The Washington Post reports that the Pfizer can't provide more vaccine until late June or July. This is due to its commitments to other countries.